SPRING/SUMMER '15 | Hair and Beauty Trends
Natural Makeup
The natural, fresh-faced look was seen on the runways of many top designers including Marc Jacobs, Gucci and Christopher Kane. There is no easier trend to mimic. So don't be slacking on your skincare routine this spring!! If you aren't confident enough to go makeup-free, keep it as minimal and natural looking as possible. I would recommend using a powder foundation such as
Bare Minerals
, a hint of blush and a little mascara.
The Low Ponytail
Low ponytails are so simple yet look so chic. They can be worn with a centre-part (as seen on the right) or slicked back. These were seen at shows by Jason Wu, Gucci, Prada and many more.
A Smokey Eye
The smokey eye is a look that has been around for a while now but I love it! However, this spring is all about a soft smokey eye, which is the perfect way to dress up a look for a night out. Avoid using eye liner with this smokey eye. Models sported this look at the shows of Sonia Rykiel and Dione Von Furstenberg.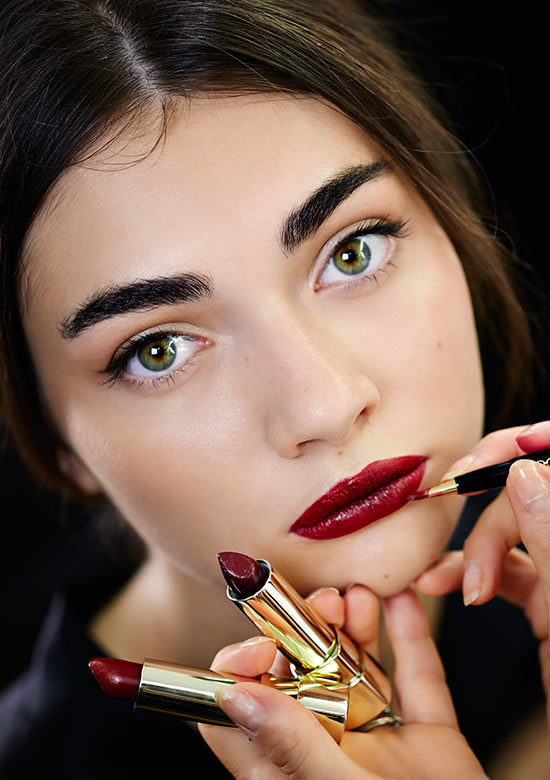 Bold Brows and A Dark Lip
Dolce & Gabbana featured this look at their show and I am obsessed with it. I think the combo of a bold brow and dark lip looks so glamorous. Make sure to keep the rest of your makeup very muted. It is definitely a look I'll be trying out.
Stained Lips
One of the trends on the Topshop runway were stained lips. This look can be achieved by putting on your favourite lipstick and blotting it away. It is such a pretty look for spring.
beauty , hair , model , runway , spring , ss15 , summer , trends